2023 Media Sociology Symposium
August 16th in Philadelphia
We're back in person this August!
Thanks to lead local organizer,
Julie Wiest,
the event will be held on-site on August 16, 2023, in Philadelphia with generous sponsorship from
West Chester University
's Department of
Anthropology & Sociology.
In addition, the 2023 Media Sociology Symposium celebrates its ongoing collaboration with CITAMS with this year's Section Chair Dustin Kidd of Temple University's Department of Sociology. 
Submission Link HERE
Key Dates:
Abstract Submissions Deadline: March 31, 2023
Notifications: April 17, 2023
Speaker Registration Deadline: June 1, 2023
Schedule Published: June 15, 2023
Event Date: August 16, 2023
Registration and Fees:
The registration fee is only $25 (USD) (fee waived for students), thanks to the generous sponsorship from Westchester University, UT Austin, and Santa Clara University. There are NO prerequisites that must be submitted prior to registering. Registration is open to all by April 19, 2023.
Abstracts of 300-600 Words:
We welcome abstracts on any topic related to media sociology, digital sociology, ICTs, information technologies, sociology of communication, ICT4D, tech4good, etc. Work may be empirical, theoretical, applied, etc. Foci may address any geographic location and employ any methodological perspectives.
Questions?
Email
mediasociologysymposium@gmail.com
We thank our global committee members for their service: Grant Blank, Wenhong Chen, Kenneth Kambara, Anabel Quan-Haase, Massimo Ragnedda, Laura Robinson, Maria Laura Ruiu, Inês Vitorino Sampaio, Jeremy Schulz, Juliana Trammel, and Julie Wiest (alphabetical order).
---
2022 Media Sociology Symposium
Thank you to our keynotes: Grant Blank, Sarah Stonbely, & Juliana Trammel and the CITAMS Plenary:  Jenny Davis and Dustin Kidd (organizers) and Michael Schudson, Julia Sonnevend, Caitlin Petre, and Laura Garbes (panelists). 
Morning Keynote: Grant Blank
"What parts of communication & information technology are we not studying?"
Access a recording of the presentation here
(audio only; video unfortunately was corrupted in transfer)
Bio: Grant Blank (Ph.D. University of Chicago) is Survey Research Fellow at the Oxford Internet Institute and Senior Research Fellow of Harris Manchester College, both part of the University of Oxford, United Kingdom. He is a sociologist specializing in the social and cultural impact of the Internet, the digital divide, statistical and qualitative methods, and cultural sociology. He is currently working on analyses of British Internet use based on the 2019 wave of the Oxford Internet Survey (OxIS), see https://oxis.oii.ox.ac.uk/. Author or co-author of about 50 papers and six books, in 2015 he was awarded the Lifetime Achievement Award from the Communication, Information Technology and Media Sociology section of the American Sociological Association. He can be reached at grant.blank@gmail.com; see https://www.linkedin.com/in/grantblank/.
Midday Keynote:

Sarah Stonbely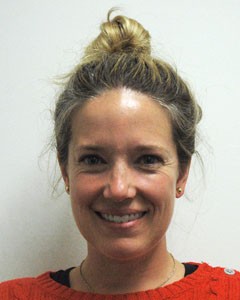 "Local News Ecosystems, Media Policy, and Journalism Sustainability: How Theoretical Media Sociology Can Be Applied to Questions in Journalism and Media Today"
Access a recording of the presentation here
Bio: Sarah Stonbely (Ph.D., New York University, 2015) is the research director at the Center for Cooperative Media in Montclair, NJ. As such she designs, manages, and executes the research agenda, which supports the Center's mission of growing and strengthening local journalism. Since heading the research agenda at CCM, Stonbely has produced white papers and research reports on collaborative journalism, the effects on content of changing media ownership, ethnic and community media, media policy, and the structural correlates of local news provision. Her most recent project was a global analysis of collaboration between journalism and civil society organizations.
Afternoon Keynote:

Juliana Trammel
"Social Media as a Platform to Advance Public Discourse"
Access a recording of the presentation here
Dr. Juliana Maria Trammel is a communications consultant, professor, and researcher. She has 12 years of experience in the field of communications that includes journalism, public relations, organizational and strategic communication, and communications research. She is currently an associate professor of Journalism & Mass Communications at Savannah State University. She earned a Ph.D. in Communication and Culture (organizational communication) from Howard University; a MA in Public Communication (social marketing) from American University; and a BA in Print and Broadcast Journalism (double major) from Rust College.
---
Panelist: Michael Schudson
"What Matters More Than Truth to U.S. Journalists?"
Abstract: U.S. journalists routinely defend their practices as committed to what they variously call objectivity, balance, fairness, professional detachment, fact-based, or in the service of truth. But this commitment, while genuine, competes with and sometimes gives way to other loyalties — to civility, to privacy, to protecting individual human lives (a "first do no harm" principle), to democracy, and to building emotional connection to audiences through storytelling. This paper briefly presents cases where these other principles subordinate objective reporting to some other goals and raises especially the complications of a journalistic commitment to democracy when explicitly anti-democratic forces are attracting a large following.
Bio: Michael Schudson is Professor of Journalism at Columbia University, and Emeritus Distinguished Professor at the University of California, San Diego.Internationally recognized as a leading scholar of the history and sociology of journalism, he has been awarded a MacArthur "genius" fellowship and is an elected member of the American Academy of Arts and Sciences. His books include Discovering the News (1978), The Good Citizen: A History of American Public Life (1998), The Sociology of News (2003, 2011), The Rise of the Right to Know (2015), and Why Journalism Still Matters (2018).
Panelist: Julia Sonnovend
"Charm: The Power of Personality in Global Politics" 
Abstract: Political scientists have argued that the last thirty years have been marked by an increasing presence of political personalization: we pay more attention to personalities than to institutions, policies or parties. While this is widely accepted, we still know little about how political personalities are constructed in mediated environments. Through the examples of liberal, illiberal, and authoritarian leaders, this talk will argue that charm is the new "keyword" of contemporary global politics. The traditional quality of "charisma" referred to exceptional, almost divine qualities and rhetorical performances of male politicians, who were distant from their audiences. In contrast, charm is a magic spell that is both seductive and deceptive, and is built on a leader's proximity to intended audiences. Politicians now have to appear as "one of us." With savvy methods, they charm and fuse with their diverse and fragmented audiences online. Without understanding how these seductive personalities rise to power, attract attention in new media, and then often fall out of favor, we cannot grasp the current complex and fragile political times we live in.
Bio: Julia Sonnevend is Associate Professor of Sociology and Communication at the New School for Social Research in New York. She is a sociologist of global culture, focusing on the events, icons, symbols and charismatic personalities of public life. She is the author of Stories Without Borders: The Berlin Wall and the Making of a Global Iconic Event (Oxford University Press, 2016) and is currently finalizing a new book manuscript entitled Charm: The Power of Personality in Global Politics (under advance contract with Princeton University Press). She grew up in Budapest, Hungary, and earned her LLM at Yale Law School and her PhD in Communications at Columbia University.
Panelist Laura Garbes
"Nice white donors: Contending with public radio's listener-member class"
Abstract: How does the donor base of privilege-dependent nonprofit organizations shape the workplace experiences of employees of color? This inquiry connects donor influence on organizations to minoritized worker experiences within those organizations. In this article, I first analyze existing public radio historiographies alongside a corpus of public radio marketing materials to demonstrate how NPR member stations, understood at their outset to be local organizations meant to reflect the entire public of each region, became dependent on a narrow set of donors, and by consequence, their tastes. Second, I analyze qualitative interview data with 66 employees to show how employees of color at local NPR member stations must contend with the donor base's importance both directly and indirectly. Many employees of color I interviewed contend with the donor base directly through interactions at donor events, station visits, and pledge drives; they also contended with these donors indirectly as they were invoked throughout the story pitching and framing process. Ultimately, these findings demonstrate that donor influence on workers of color in cultural organizations constrain opportunities of workers of color in the organization and the stories available in the dominant public sphere.
Bio: Laura Garbes is an incoming assistant professor of sociology at the University of Minnesota – Twin Cities. She received her PhD in Sociology from Brown University. She has received fellowships from the National Science Foundation and the American Association for University Women for her work, which focuses on the relationship between voice, whiteness, and cultural organizations. Her current research project interrogates the racialization of sound in American public radio. Her article "When the "Blank Slate" Is a White One: White Institutional Isomorphism in the Birth of National Public Radio" is published in Sociology of Race and Ethnicity. Her most recent publication, ""Anti-Colonial Struggles on Air: Challenging the Colonial Soundscape through Indigenous Soundwork" can be found in Resonance: The Journal of Sound and Culture.
Panelist: Caitlin Petre
"When Workers Own the Newsroom: Media Ownership, Journalistic Working Conditions, and the case of Defector Media"
Abstract: Recent years have seen a rise in worker-owned media companies and cooperatives. The worker-ownership model has been heralded as a potential counter to the precarity of journalistic jobs, the speedup of newswork, and the hyper-commercialism of the US news industry. But we do not yet know how this model impacts journalists' day-to-day working conditions. How, if at all, does worker-ownership affect editorial decision-making, the journalistic labor process, and journalists' lived experience of work? This article draws on interviews with worker/owners at Defector, a sports-and-culture site created by journalists who resigned en masse from the private-equity owned company G/O Media. I explore how the structural pressures on contemporary journalism (e.g., platform-dependence; the reliance on metrics to surveil and evaluate worker performance) are affected by the shift to a worker-owned model. The paper contributes to a growing body of research on the role of ownership structures on media work.
Bio: Caitlin Petre is Assistant Professor of Journalism and Media Studies at Rutgers University. Her work uses qualitative methods to examine the social processes, organizations, and actors behind the digital datasets and algorithms that increasingly govern the contemporary world. Petre's book, All the News That's Fit to Click (published September 2021 by Princeton University Press), is a behind-the-scenes look at how performance analytics are transforming the work of journalism. Her scholarly work has been published in Social Media & Society, the American Journal of Sociology, Social Forces, Sociologica, and Digital Journalism. She has appeared in popular publications such as the New York Times, the Economist, WIRED, the Atlantic, the American Prospect, and Columbia Journalism Review. Petre holds a Ph.D. in Sociology from New York University, is currently a faculty affiliate at the Center for Information, Technology, and Public Life at the University of North Carolina at Chapel Hill, and was previously a postdoctoral fellow at the Information Society Project at Yale Law School.
---
2022 Media Sociology Symposium Schedule (All Times in PDT)
Sponsors: CITAMS * LIM College Center for Graduate Studies * Santa Clara University Department of Sociology* Center for Entertainment and Media Industries at the University of Texas at Austin * Emerald Studies in Media and Communications
9:00-10:00 Morning Keynote Grant Blank Introduced by Kenneth M. Kambara
10:00-11:30 Panel: Media and Misinformation, Chair: Julie Wiest
News Media and Social Movement Cooptation: How the Press Can Alter the Life Course of Movements by Samuel Smith
Source of Divergence: A Comparative Studies of News on COVID-19 Origin in the U.S. and Canada by Muyang Li, Fan Yang, Qian Liu, and Zhifan Luo
I would always be careful about what I receive": Online misinformation, epistemic norms and social distinction" by Natalie-Anne Hall, Andrew Chadwick, and Cristian Vaccari
 Fighting online hate and disinformation: A typological approach and going beyond media literacy by Shakuntala Banaji and Ramnath Bhat 
11:30-12:00 Break
12:00-1:00 Midday Keynote Sarah Stonbely Introduced by Julie Wiest
1:00-2:30 Panel: Institutions and Inequalities, Chair: Kenneth M. Kambara
Surviving is Succeeding by Di Di                                                          
Smarter but more unequal transport? How sociodigital inequalities hinder mobility apps' adoption by Matías Dodel and Diego Hernánez
Zoom Fatigue or Slack Boost? by Jeremy Schulz and Oyvind Wiborg
Digital Interactions in a Postpandemic World by Katia Moles and Laura Robinson
2:30-3:00 Break 
3:00-4:30 Panel: Current Issues, Chair Di Di
Controversial Consumption: User Reviews and Problematic Content in Film by Reid Ralston
Men, erotic habitus and the gender capital of social grievances: The Case of the No Fap Reddit Communities by Steven Dashiell
Understanding niche right-wing social media platforms: who were Parler users and what did they post about? by Dhiraj Murthy  
Organizing while tracked: Youth hybrid activism under surveillance by Ashley Lee                  
4:30-5:30 Afternoon Keynote Juliana Trammel Introduced by Laura Robinson
5:30-7:00 CITAMS Plenary  
Organized by Jenny Davis and Dustin Kidd
Panelists: Michael Schudson, Julia Sonnevend, Caitlin Petre, and Laura Garbes
---
2022 ICA Postconference on Media Sociology
June 1st Program Here
An Unequal Digital World? Critical Perspectives on Media Sociology as Transdisciplinary Global Network with Featured Speakers: Paola Tubaro (CNRS) and Antonio A. Casilli (Télécom Paris) and Institutional Partner: Jen Schradie, Sciences Po Paris
Committee and Organizers: Contact: Laura Robinson; Committee Members: Grant Blank, Antonio Casilli, Wenhong Chen, Massimo Ragnedda, Laura Robinson, Jen Schradie, Jeremy Schulz, Juliana Trammel, Paola Tubaro, and Julie Wiest (in alpha order)
Description: This postconference welcomes scholars from all fields and disciplines build the field of media sociology writ large on any foci, theoretical orientation, and/or methodological practice. Contributing to ICA's theme "One World, One Network," the post-conference provides a global tent for the emergent interdisciplinary field of media sociology at the intersection of communication, media, technology, digital inequalities, and social changes. Submissions are invited from voices and practitioners from around the world, particularly traditionally underrepresented groups from whom we can learn much about inequalities in increasingly networked and digitized societies. This postconference leverages ICA's conference in Paris to showcase featured speakers Paola Tubaro (CNRS) and Antonio A. Casilli (Télécom Paris) from the internationally renowned CNRS, le Centre national de la recherche scientifique, which is one of France's premier institutions. In addition to showcasing French intellectual leadership appropriate to the ICA venue, organizers come from South America, North America, Europe, and the UK, thus ensuring global standpoints. The event's ICA affiliate is the Computational Methods Divisions (submissions are welcome from all methodological and theoretical perspectives).
Featured Speakers: The event's featured speakers are Antonio Casilli and Paola Tubaro whose talks are respectively entitled "Who bears the burden of a pandemic? COVID-19 and the transfer of risk to digital platform workers" and "Digital Venezuela: Global inequalities, economic crisis and local networks behind the online economy."
Antonio A. Casilli is a professor of sociology at Telecom Paris, the telecommunications school of the Institut Polytechnique de Paris, and a researcher at the Interdisciplinary Institute on Innovation (i3). His research foci are digital labor, data governance, and human rights. He is the author of the award-winning book En attendant les robots (Editions du Seuil, 2019) and one of the co-creators of the documentary mini-series Invisibles (France Télévisions, 2020) about platform workers. E-mail: antonio [dot] casilli [at] telecom-paris [dot] fr
Paola Tubaro is Research Professor in sociology at the National Centre for Scientific Research (CNRS) in Paris. A specialist of social network analysis, she is currently researching the place of human labour in the global production networks of artificial intelligence, and the social conditions of platform work especially in French and Spanish-speaking countries. Her interests also include data methodologies and research ethics. E-mail: paola [dot] tubaro [at] inria [dot] fr
---
2021 Media Sociology Symposium
Keynote:  Ralph Schroeder
CITAMS Chairs' Plenary:

"The Challenge of Obsolescence in Media Sociology" organized by Andrew M. Lindner and Jenny Davis with panelists  Morgan G. Ames, Melissa C. Brown 
---
This year's virtual event featured Keynote Speaker Professor Ralph Schroeder of the Oxford Internet Institute who spoke on "Digital Media and Social Theory: the View from Modi's India and Xi's China."
Professor Ralph Schroeder is Programme Director of the MSc in Social Science of the Internet at the OII. Professor  Schroeder has interests in virtual environments, social aspects of e-Science, sociology of science and tech, and has written extensively about virtual reality technology. His current research is related to digital media and right-wing populism.
Ralph Schroeder was formerly Professor in the School of Technology Management and Economics at Chalmers University in Gothenburg (Sweden). He completed his PhD about Max Weber at the LSE in 1988. His publications include Rethinking Science, Technology and Social Change (Stanford University Press, 2007) and Being There Together: Social Interaction in Virtual Environments (Oxford University Press, 2010). He is also the author of 'An Age of Limits: Social Theory for the 21st Century' (Palgrave Macmillan 2013) and, with Eric T. Meyer, of 'Knowledge Machines: Digital Transformations of the Sciences and Humanities' (MIT Press 2015).
---
We are also pleased to announce special international collaborations with the Brazil-U.S. Colloquium on Communication Studies and IAMCR Digital Divide Working Group. 
---
The CITAMS Chairs' Evening Plenary was: "The Challenge of Obsolescence in
Media Sociology" organized by Andrew M. Lindner (Skidmore College) and Jenny Davis (Australian National University) with panelists  Morgan G. Ames (UC-Berkeley), Melissa C. Brown (Stanford University).
---
The event was free thanks to our generous sponsors: CITAMS || Bristol Univ. Interpretive Lenses in Sociology  || Emerald Studies in Media and Communications || Palgrave Studies in Digital Inequalities || Santa Clara University Department of Sociology
---
Program Committee Co-Organizers and Co-Chairs: Laura Robinson & Julie Wiest  with Committee Members:  Wenhong Chen, Ken Kambara, Jeremy Schulz, & Ian Sheinheit with Assistant Committee Members: Barbara Baptista and JD Worcester (in alphabetical order)
---
CALLS FOR SUBMISSIONS FROM OUR SPONSORS
Emerald Studies in Media and Communications: Call for Guest Editors 
Emerald Studies in Media and Communicatons is calling for submissions for edited volumes on any aspect of digital sociology. Each year, we publish volumes that capitalize on the series' sponsorship by CITAMS. The series welcomes self-nominations from scholars of all disciplines interested in editing a volume on an important aspect of media, communication, digital sociology, or related fields. If you are interested in submitting a proposal for an edited volume, please email editorial@emeraldmediastudies.com or for more information see http://www.emeraldmediastudies.com/  
Palgrave Studies in Digital Inequalities: Call for Monographs and Edited Volumes
Palgrave Studies in Digital Inequalities book series is seeking monographs and edited volumes that speak to any aspect of digital inequality, digital divides, and digital inclusion writ large. The series welcomes monographs and edited volumes that are empirical, theoretical, agenda‐setting, and/or policy driven that explore any aspect of inequality, marginalization, inclusion, and/or positive change in the digital world. The series seeks scholars studying both emergent and established forms of inequality. Potential themes include but are not limited to digital inequalities in relation to AI, algorithms, misinformation, digital labor, platform economy, cybersafety, cybercrime, gaming, big data, the digital public sphere, economic class, gender, sexuality, race and ethnicity, aging, disability, healthcare, education, rural residency, networks, public policy, etc. If you have questions or would like to initiate a proposal, send an abstract of your ideas and author/editor bio(s) to editorial@palgravedigitalinequalities.org
---
Thank you to our sponsors!

---
For more information on the Media Sociology Preconference held from 2013 until 2019 see the Spring 2018 CITAMS Newsletter
---